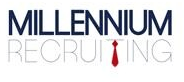 Job title: 6 OPENINGS – Advertising, Customer Service, PR, Management

Company: Millennium Recruiting

Job description: WANT TO DO SOMETHING YOU LOVE?
TIRED OF SITTING AROUND?
GET OUT FROM BEHIND THE DESK!
NEVER BE BORED AGAIN!
Everyday learn something NEW! Always talk to NEW people! Always a NEW place to be!
We are hiring for Entry Level positions:
· Advertising/PR Reps
· Customer Service Assistance Team
· Marketing Consultants
· Training Manager
· Assistant Manager
· Promotions into office management
Our office is comprised of very driven, self-motivated individuals that are very serious about their careers.
All Positions are demanding and fast-paced!
Full Paid Training Provided. Immediate Hire!
Becoming a part of our team does NOT just benefit us; it also benefits our employees in great ways:
Extensive PAID training
Guaranteed competitive weekly pay
Job Stability
Travel opportunities & vacations
Rapid growth and advancement potential based on individual performance
Fun / Positive work environment.
Apply Today!
REQUIREMENTS:
Willing to learn new duties and responsibilities.
Training is provided to all experience levels.
Must be available to start immediately.
Must have a professional image.
Powered by JazzHR

Expected salary:

Location: New York City, NY

Job date: Sat, 09 Jul 2022 06:53:19 GMT

Apply for the job now!