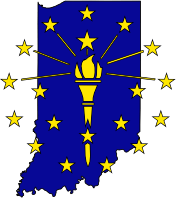 Job title: Accounting Clerk

Company: State of Indiana

Job description: Work for Indiana
Grow your career with the State of Indiana! With more than 50 executive branch agencies, the State of Indiana is a diverse workforce offering employees stimulating and challenging projects across a broad scope of career opportunities. As a State of Indiana employee, you impact the well-being of Indiana's communities every day.
At the State of Indiana, we don't just talk about diversity and inclusion – Our goal is to create a welcoming, accessible, and equitable workplace, with a workforce that is representative of the State of Indiana population. We are proud to be an equal opportunity employer.
About the Indiana Department of Correction (IDOC):
We promote public safety by providing meaningful, effective opportunities for successful re-entry. As the model of best correctional practices, we strive to return productive citizens to our communities and inspire a culture of accountability, integrity and professionalism.
Salary:

The salary for this position may be commensurate with education and/or experience.
About the Job:
The Accountant is responsible for preparing, analyzing and maintaining accounts or ledgers for the Indiana Department of Correction.
A Day in the Life:
The essential functions of this role are as follows:

Reconciles accounts and subsidiary ledgers with general ledger;
Posts transactions to cost summary journals;
Prepares a variety of accounting and financial reports from the accounts maintained;
Prepares, corrects and adjusts entries prior to closing accounts;
Analyzes procurement activity and disbursal of funds and assists in the preparation of program area budget requests;
Reviews accounts to ensure availability of funds before encumbrances and advises supervisor if account balance is not in agreement with State Auditor's Office;
Ensures all contractual obligations are fulfilled prior to payment to vendors for services or purchases;
Secures specifications and requisitions for purchases of equipment, furniture and supplies;
Monitors flow of appropriated funds;
Supervises lower-level accountants or account clerks;
Monitors verification and editing of ledger input to the computerized accounting system for the specific program area;
Recommends changes in accounting policies and methods and assists in developing accounting procedures;
The job description is not designed to cover or contain a comprehensive listing of activities, duties or responsibilities that are required of the employee. Other duties, responsibilities and activities may change or be assigned at any time. Reasonable accommodations may be made to enable individuals with disabilities to interview and to perform the essential functions of this role.
What You'll Need for Success:

Specialized knowledge of theories, principles and practices of public accounting;
Specialized knowledge of federal and state laws, policies and procedures pertaining to government accounting and bookkeeping;
Specialized knowledge of agency function and organization;
Working knowledge of automated accounting systems;
Effectively communicate, both orally and in writing;
Ability to solve standard accounting problems;
Ability to evaluate and recommend modifications to existing accounting policy and procedures;
Ability to prepare and interpret financial statements and reports;
Ability to assist in budget preparation;
Ability to supervise, delegate and coordinate the activities of others;
Ability to accurately perform arithmetic calculations.
Supervisory Responsibilities/Direct Reports:
This role may serve as a team lead for an assigned work group.
Benefits of Employment with the State of Indiana:
The State of Indiana offers a comprehensive benefits package for full-time employees which includes:
Three (3) medical plan options (including RX coverage) as well as vision and dental plans.
Wellness program (offers a premium discount for the medical plan and gift cards);
Health savings account, which includes bi-weekly state contribution;
Flexible work scheduling options, including the potential for hybrid remote work for employees whose work may be performed outside state facilities;
Deferred compensation 457B account (similar to 401k plan) with employer match;
Two (2) fully-funded pension plan options;
A robust, comprehensive program of leave policies covering a variety of employee needs, including but not limited to:
150 hours of paid new parent leave;
Up to 15 hours of paid community service leave;
Combined 180 hours of paid vacation, personal, and sick leave time off;
12 paid holidays, 14 on election years;
Education Reimbursement Program;
Group life insurance;
Referral Bonus program;
Employee assistance program that allows for covered behavioral health visits;
Qualified employer for the Public Service Loan Forgiveness Program;
Free Parking for most positions;
Free LinkedIn Learning access;
Equal Employment Opportunity:
The State of Indiana is an Equal Opportunity Employer.

Expected salary:

Location: Indianapolis, IN

Job date: Thu, 07 Jul 2022 22:24:10 GMT

Apply for the job now!