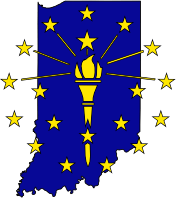 Job title: Administrative Law Judge

Company: State of Indiana

Job description: Work for Indiana
Grow your career with the State of Indiana! With more than 50 executive branch agencies, the State of Indiana is a diverse workforce offering employees stimulating and challenging projects across a broad scope of career opportunities. As a State of Indiana employee, you impact the well-being of Indiana's communities every day.
At the State of Indiana, we don't just talk about diversity and inclusion – Our goal is to create a welcoming, accessible, and equitable workplace, with a workforce that is representative of the State of Indiana population. As a proud equal opportunity employer, reasonable accommodations may be available to enable individuals with disabilities to interview and to perform the essential functions of a role.
Next Level benefits at the State of Indiana are here! Be sure to review our expanded benefit package offerings below.
About the Indiana Board of Tax Review (IBTR):
The IBTR conducts an impartial review of appeals concerning: (1) the assessed valuation of tangible property; (2) property tax deductions; (3) property tax exemptions; or (4) property tax credits that are made from a determination by an assessing official or a property tax assessment board of appeals. The IBTR also reviews assessment determinations made by the Department of Local Government Finance.
Role Overview:
As the Administrative Law Judge (ALJ) for IBTR you will be responsible for presiding over numerous administrative proceedings originating from determinations by assessing officials, property tax assessment board of appeals, and assessment determinations made by the Indiana Department of Local Government Finance. You will hear evidence, rule on the admissibility of evidence, and make reasoned decisions supported by evidence.
A Day in the Life:
The essential functions of this role are as follows:
Advise and provide general legal support to agency staff on various program and legal areas
May train, delegate to, and/or provide support for any legal support staff
May oversee, draft, or review contracts
Research and interpret laws, promulgated rules, and legal opinions pertaining to agency operations
May draft and review legislation and administrative rules
Maintain legal resources, dockets, legal files, and official records of proceedings relating to cases
Organize and manage caseload in the preparation of hearings and/or litigation
Responsible for the creation, preparation, and distribution of documents related to hearings, including orders and decisions
May review appropriate pleadings, motions and discovery, and/or responses, draft appeals and appellate briefs, or perform legal writing assignments
Utilize litigation skills and experience relating to agency operations
May handle administrative matters and hearings while maintaining appropriate decorum, hear evidence, rule on the admissibility of evidence, and/or make reasoned decisions supported by evidence
The job description is not designed to cover or contain a comprehensive listing of activities, duties or responsibilities that are required of the employee. Other duties, responsibilities, and activities may change or be assigned at any time.
What You'll Need for Success:

Doctorate of Jurisprudence;
Indiana Bar Admission; license in good standing;
Demonstrated knowledge and ability to apply relevant statutes, case law, and rules.
Ability to effectively communicate both orally and in writing;
Ability to successfully utilize a case management system to manage a docket, case information, party information, and serve orders;
Strong legal research, writing, and litigation skills;
Supervisory Responsibilities/Direct Reports:
This role does not provide direct supervision to direct reports.
Benefits of Employment with the State of Indiana:
The State of Indiana offers a comprehensive benefit package for full-time employees which includes:
Three (3) medical plan options (including RX coverage) as well as vision and dental plans;
Wellness program (offers premium discount for the medical plan and gift cards);
Health savings account, which includes bi-weekly state contribution;
Flexible work scheduling options, including the potential for hybrid remote work for employees whose work may be performed outside state facilities;
Deferred compensation 457B account (similar to 401k plan) with employer match;
Two (2) fully-funded pension plan options;
A robust, comprehensive program of leave policies covering a variety of employee needs, including but not limited to:
150 hours of paid new parent leave;
Up to 15 hours of paid community service leave;
Combined 180 hours of paid vacation, personal, and sick leave time off;
12 paid holidays, 14 on election years;
Education Reimbursement Program;
Group life insurance;
Referral Bonus program;
Employee assistance program that allows for covered behavioral health visits;
Qualified employer for the Public Service Loan Forgiveness Program;
Free Parking for most positions;
Free LinkedIn Learning access;
Salary:
Salary for this position is commensurate with education and experience.
Equal Employment Opportunity:
The State of Indiana is an Equal Opportunity Employer.
Current Employee? Click to apply.

Expected salary:

Location: Indianapolis, IN

Job date: Wed, 22 Jun 2022 03:53:14 GMT

Apply for the job now!