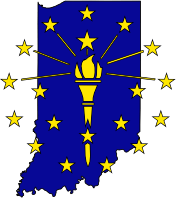 Job title: Appeals Law Clerk – Hybrid

Company: State of Indiana

Job description: Work for Indiana
Grow your career with the State of Indiana! With more than 50 executive branch agencies, the State of Indiana is a diverse workforce offering employees stimulating and challenging projects across a broad scope of career opportunities. As a State of Indiana employee, you impact the well-being of Indiana's communities every day.
At the State of Indiana, we don't just talk about diversity and inclusion – Our goal is to create a welcoming, accessible, and equitable workplace, with a workforce that is representative of the State of Indiana population. We are proud to be an equal opportunity employer.
About the Indiana Department of Workforce Development (DWD):
Our mission is to develop a premier workforce that will allow Indiana employers to flourish and entice businesses from outside our state to relocate to Indiana. Everyone at DWD will be required to think outside-the-box; to determine metrics that will allow for measurement and improvement and efficiencies to be made along the way. Cutting-edge technologies will be utilized to help assess Indiana's employment future. If managed properly, Indiana's workforce will be second to none and completely prepared for the next phase of the state and country's economic growth.
Salary:
This role is typically filled with a starting salary of $30,000.
Work Location:
This position is a hybrid position. After training, you will spend 3 days in the office and 2 days remotely. You would report to the Indianapolis, Kokomo, or Fort Wayne office. When working remotely, you will be required to have your computer hardwired into your internet utilizing an ethernet cable. You may also be required to provide a space to work in your home free of distractions. Please note that there is always a potential for you to be required to come into the office due to employer needs.
About the Job:
As a UI Appeals Law Clerk, you will provide clerical support to the Administrative Law Judges staffed with the appeals department. You will serve as a liaison between the hearing parties and the Administrative Law Judge. You will process incoming appeal requests from claimants/employers and provide hearing parties with specific information about their cases.
A Day in the Life:
The essential functions of this role are as follows:
Maintain confidentiality by following agency policy and legal constraints
Process a minimum of 50 appeal requests weekly (Identifying any discrepencies in requests for appeals that include insufficient information to determine which issue is being appealed, if the correct party is appealing the Determination of Eligibility, and any other issues that arise.)
Schedule appeal hearings for assigned Administrative Law Judges and ensure the statutory ten day notice is provided to all hearing parties
Prepare, update, and close administrative files to ensure an accurate appellate file is preserved for appeals
Respond to email/phone inquiries on a variety of matters such as the status of pending cases, administrative and court rules, adminstrative appeals procedures, and general unemployment insurance (UI) administrative rules and procedures.
The job description is not designed to cover or contain a comprehensive listing of activities, duties or responsibilities that are required of the employee. Other duties, responsibilities and activities may change or be assigned at any time.
What You'll Need for Success:

The ideal candidate in this role should minimally have a high school diploma or HSE (High School Equivalency)
1-2 years of clerical work experience.
Effectively communicate, both orally and in writing.
Strong attention to detail, multitasking, and exceptional organizational skills
Ability to work well under pressure and able to maintain a courteous and kind disposition.
Ability to gather information and make logical assessments and decisions
Supervisory Responsibilities/Direct Reports:
This role does not provide direct supervision to direct reports.
Benefits of Employment with the State of Indiana:
The State of Indiana offers a comprehensive benefit package for full-time employees which includes:
Three (3) medical plan options (including RX coverage) and vision/dental coverages
Wellness program (offers premium discount for the medical plan and gift cards)
Health savings account (includes bi-weekly state contribution)
Deferred compensation account (similar to 401k plan) with employer match
Two (2) fully-funded pension plan options
Group life insurance
Employee assistance program that allows for covered behavioral health visits
Paid vacation, personal and sick time off
Competitive leave policies covering a variety of employee needs
12 company paid holidays, 14 on election years
Qualified employer for the Public Service Loan Forgiveness Program
New Parent Leave
Free Parking
Free LinkedIn Learning
DWD GOAL (Go Out and Learn) Tuition Assistance Program – Eligible employees have access to up to $5,000 in tuition assistance per fiscal year
Equal Employment Opportunity:
The State of Indiana is an Equal Opportunity Employer.
Current Employee? Click to apply.

Expected salary: $30000 per year

Location: Indianapolis, IN

Job date: Wed, 08 Jun 2022 04:50:41 GMT

Apply for the job now!