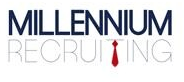 Job title: Brand Marketing Advocate

Company: Millennium Recruiting

Job description: We are a premiere, privately owned and operated sales and marketing firm
We need to meet the ambitious demands from our clients.
We are looking for extremely motivated, confident, and extroverted individuals who are striving to attain their highest potential in a leadership capacity.
Through us, our clients are able to bring a more personal approach to their buying experience.
We expect rapid growth throughout the Region which is why we have began our hiring process.
Successful candidates must have:
· competitive drive
· ability to work with a team
· a student mentality
· leadership potential
· ambitious career goals
Promotions are based on performance.
Responsibilities include:
· campaign management
· coaching and development
· presentations
· customer retention
· team management
Recent graduates are encouraged to apply for our entry-level positions.
No experience is necessary.
We hope your skills and ambitions match our firm's goals and expectations.
Powered by JazzHR

Expected salary:

Location: Oklahoma City, OK

Job date: Fri, 08 Jul 2022 06:45:25 GMT

Apply for the job now!