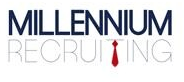 Job title: ENTRY LEVEL MARKETING POSITIONS WITH PAID TRAINING

Company: Millennium Recruiting

Job description: ENTRY LEVEL MARKETING POSITIONS WITH PAID TRAINING
We are an advertising, and marketing firm looking for people with potential and an ambitious drive, rather than experience, to aggressively expand in the area.
We are hiring for ENTRY LEVEL MANAGEMENT, MARKETING, CUSTOMER SERVICE, ADVERTISING/PR, AND EVENT MANAGEMENT POSITIONS. We have an aggressive expansion plan laid out and are looking to find a person who would love to work in a, fun, competitive, positive-minded environment.
What We Do:
Our Company is an outsourcing customer acquisition firm. That means our clients hire us to provide a personal touch with customers that they can't do themselves and don't trust anyone else to do. Because our personal approach has proved to be so successful, we do not do any telemarketing or direct mail. We also do not do residential sales.
Who We're Looking for:
· You must be ENTRY LEVEL.
· You must possess great people skills.
· You must demonstrate excellent work ethic.
· You must have a positive business attitude like the rest of our enthusiastic staff.
· You must be confident you'll be successful, just waiting for a career opportunity where you can prove yourself.
Why We Are Hiring:
Our clients are asking us to bring them more customers. Therefore, our goal is to find someone to help us run our locations and help in our expansion efforts. The person we hire will get management training and have unlimited growth opportunity and income potential.
Our Management Training Program focuses on the following areas:
· Sales and Marketing. (No telemarketing! No direct mailing! No commission only pay!)
· Leadership Skills
· Effective Communication Techniques
· Marketing Campaign Roles
· Sales Strategies
· Team Management
Employees with a proven track record will have the opportunity to participate in our Leadership and Management Development Program.
PROMOTIONS based upon performance.
No Experience Necessary!
Requirements:
This is an entry-level position. All college graduates are encouraged to apply; however, the following degrees/experiences are the best matches:
· Communications
· Business administration
· Management
· Advertising
· Marketing
· Public Relations
· Political Science
· Psychology
· Military
· Sports Management
· Athletic Experience
Powered by JazzHR

Expected salary:

Location: Phoenix, AZ

Job date: Sat, 09 Jul 2022 06:21:04 GMT

Apply for the job now!