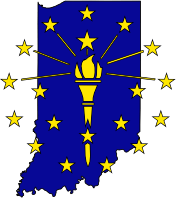 Job title: Telecommunications Technician

Company: State of Indiana

Job description: Work for Indiana
Grow your career with the State of Indiana! With more than 50 executive branch agencies, the State of Indiana is a diverse workforce offering employees stimulating and challenging projects across a broad scope of career opportunities. As a State of Indiana employee, you impact the well-being of Indiana's communities every day.
At the State of Indiana, we don't just talk about diversity and inclusion – Our goal is to create a welcoming, accessible, and equitable workplace, with a workforce that is representative of the State of Indiana population. As a proud equal opportunity employer, reasonable accommodations may be available to enable individuals with disabilities to interview and to perform the essential functions of a role.
About the Intergrate Public Safety Commission:
The IPSC staff is united in the belief that Project Hoosier SAFE-T will make Indiana a safer place to live and work. Project Hoosier SAFE-T gives first responders a vital tool they need to combat crime and save lives. It gives public safety agencies unprecedented ability to talk to one another. Indeed, the SAFE-T network has already inspired cooperation among all public safety officers at the state, federal and local level. Indiana's approach to public safety communications has been inclusive and technologically progressive, but designed with a firm recognition of fiscal reality. Our vision is to enable all public safety agencies to share a single, integrated, voice and mobile data communications network statewide. Hoosier first responders and public safety professionals deserve no less.
Salary:
This position traditionally starts at $47,476 per year and may be commensurate with education and work experience.
Next Level benefits at the State of Indiana are here! Be sure to review our expanded benefit package offerings below.
Land/Mobile Radio Telecommunications Technician
This position serves as a Senior-level public safety Land/Mobile Radio Telecommunications Technician, performing a wide variety of high-tech system responsibilities including testing, alignment, and repair of advanced public safety radio systems which include VHF/ UHF base stations, P25 – 800 MHz repeaters, the state microwave radio network including routers, switches, channel banks, and other related data network equipment. Also, a myriad of public safety 800 MHz mobile and portable two-way radios for subscribers utilizing the State of Indiana P25- 800 MHz trunking radio system.
This position will be assigned a state vehicle and equipment. Home base will be employee's home address but statewide travel will be required with some overnight assignments. In the event that you have to travel overnight all travel accommodations are covered by the agency including per diem for food.
A day in the life
The Telocommunications Technician is responsible for accepting emergency call-out 24/7/365 in response to system outages which may affect the operation of the statewide P25 – 800 MHz trunking system, microwave system carrying MPLS router network data, and control signaling for VHF/UHF base stations and repeaters. Responsibilities also include resolving network system failures and programming issues for two-way mobile and portable radios. The position requires the use of high-tech system analyzers, power meters, spectrum analyzers, T1/ Ethernet test sets, and related instrumentation for maintaining all telecommunications and related data networking systems.
Program, align, upgrade, troubleshoot, and repair mobile, portable, and base two-way radios, public safety microwave radios and related equipment located at state-wide radio repeater sites.
Write and update programming templates for 800 MHz, VHF mobile, and portable radios using software such as Astro 25 CPS, APX, and PC Configure.
Interact with vendors during the installation and upgrade of microwave transceivers and related system equipment.
Operate complex test equipment including, but not limited to: service and spectrum analyzers, frequency counters, power meters, and T1/Ethernet test sets to ensure all telecommunications equipment meets or exceeds manufacturer's specifications and meets Federal Communications Commission rules and regulations.
Provide daily resolutions for various hardware and software problems.
Provide customer support, by assisting where possible, with technical questions related to the operation of the statewide P25 trunking system, microwave network, and two-way portable and mobile radios.
Perform preventative maintenance, applying established industry standard test procedures, to insure uninterrupted operation of the P25- 800 Mzh trunking system, microwave network, and data network.
Record and maintain system measurements and maintenance records at remote sites, to assure a traceable record is available and in compliance with FCC rules and regulations.
Assist in the installation and configuration of data network equipment, structured wire and fiber optic cabling, including but not limited to, multi-layer switches, hubs, and 7705 routers.
Research, develop, and implement standardized testing procedures to ensure uninterrupted operation of the statewide P25 – 800MHz trunking system, microwave, and data networks.
Monitor and inspect back-up UPS units, emergency generators, and tower light control panels. Visually inspect R56 grounding systems, guy wire anchors, antenna/microwave systems from ground level, communications buildings and site property. Report any discrepancies to supervisory staff for corrective action.
Keep abreast of new technology by participating in continuing education through research, technical training, periodicals and review of industry technical manuals.
What we're looking for
Must possess or obtain within a year a valid Federal Communications Commission (FCC), General Class Radiotelephone License (GROL), or valid ISCET Journeyman Wireless Technician Certification with the ability to apply technical knowledge to ensure compliance with FCC Rules and Regulations.
Must possess an Associate's Degree or equivalent technical diploma in Telecommunications Electronics from an accredited technical school, college, or United States military technical school.
Must possess hands-on experience in telecommunications maintenance and a comprehensive knowledge of public safety land mobile radio systems and telecommunications.
Comprehensive knowledge of analog/digital circuits, transmission lines, waveguide, and base/mobile antenna systems. Ability to collect and interpret test measurements and radio field coverage data.
Comprehensive knowledge of P25 trunking system concepts including signaling, data, and audio routing from IR sites to their respective master zone core.
Comprehensive understanding of VHF transmitters/receivers and uninterruptible power supply.
Comprehensive knowledge of computer operation and terminology, TCP/IP and OSI models, and data networking as it relates to the installation, maintenance, and programming of routers, switches, channel banks, and other associated network equipment utilized in the state telecommunications system.
Must possess the ability to load, update, and use advanced computer programming software for programming, testing and aligning telecommunications equipment.
Ability to troubleshoot circuits carrying data and internet information to agencies across the statewide microwave radio system.
Must possess an extensive knowledge and understanding of critical data perimeters such as signal level, bit error rate, and synchronization to assure reliability of state data systems.
Comprehensive knowledge and diagnostic ability to troubleshoot and repair to component level, when necessary, utilizing high-tech digital electronic diagnostic and repair equipment.
Must possess a valid Indiana driver's license and be willing to drive long distances to remote facilities.
Availability for after-hours callout in support of the statewide public safety radio systems or other emergencies, as required.
Working knowledge of the hazards and applicable safety procedures when working with high voltage and high current.
Ability to read, comprehend, and interpret highly technical manuals and schematic diagrams.
Ability to communicate and interrelate with non-technical personnel, technical support services and vendors. Both excellent oral and written communications skills are mandatory.
Ability to use word processing, spreadsheets, databases, and data storage devices.
Ability to lift heavy equipment such as batteries and test equipment (up to 50 lbs.).
Ability to travel to statewide remote locations which may require multiple overnight lodging.
Often required to respond to special events and disasters to assist in the deployment of mobile repeater systems, trailers and issuing of large quantities of cache loaner radios.
May be required to assist with on-site radio operational training, programming, and troubleshooting during disasters and special events.
Maintain state-provided vehicle in a clean and orderly condition for work-related transportation.
Ability to work independently and often unsupervised. Always willing to work as a team member with technicians, customers, and vendors
Benefits of Employment with the State of Indiana:
The State of Indiana offers a comprehensive benefit package for full-time employees which includes:
Three (3) medical plan options (including RX coverage) as well as vision and dental plans
Wellness program (offers premium discount for the medical plan and gift cards)
Health savings account, which includes bi-weekly state contribution
Flexible work scheduling options, including the potential for hybrid remote work for employees whose work may be performed outside state facilities
Deferred compensation 457B account (similar to 401k plan) with employer match
Two (2) fully-funded pension plan options
A robust, comprehensive program of leave policies covering a variety of employee needs, including but not limited to:
150 hours of paid new parent leave
Up to 15 hours of paid community service leave
Combined 180 hours of paid vacation, personal, and sick leave time off
12 paid holidays, 14 on election years
Education Reimbursement Program
Group life insurance
Referral Bonus program
Employee assistance program that allows for covered behavioral health visits
Qualified employer for the Public Service Loan Forgiveness Program
Free Parking for most positions
Free LinkedIn Learning access
Equal Employment Opportunity:
The State of Indiana is an Equal Opportunity Employer.

Expected salary: $47476 per year

Location: Indianapolis, IN

Job date: Tue, 28 Jun 2022 22:56:48 GMT

Apply for the job now!